WARM HUGHES, VOLUME 3
FALL 2020


Two years in the making, I'm moving this newsletter into a journal format for archiving purposes. Despite having a fantastic site before, the move here is necessary as a parent of one (and soon to be two). I'll miss the custom presentation of what Ext. Play made - but for the next couple years, this site will allow me more flexibility. Hopefully I can revive the older one down the road.

Getting into it: is 2020 almost over? Anyone else feel like time continues it's liminal slide into and ever increasing stacato-like pace year over year?





STARE INTO THE SUN
for it stares into you

03 Aug 2020
WARM HUGHES, VOLUME 2, SPRING 2019



Hello again

With many of us getting used to our new confined spaces as a new normal complete with comfortable temperatures and surfaces - I felt it was appropriate to express something to fill the vacuum of space time we now have.

In my previous email from Oct 2018 I talked about Autumn being my own season for reflection, preparation for the future, and now with the coming Spring it's the time for planting seeds and becoming aware of the outward expansion to come.

How do you describe the dichotomy of a time for growth with narrow and definite limits? Orson Wells famously touched on this and told us "The enemy of art is the absence of limitations." The friction produced by two opposing forces is an often difficult energy to draw inspiration from, but it is also a way for us to collectively choose to move into new spaces together. I personally fill this time with a resting lightness, active detachment, and new methods of discovery. To find an appreciation for the things that are here, in this moment, and in the next - embracing this new season like I meant to.

Hope you enjoy scrolling through some of my latest works

Be well



Galcher Lustwerk

#personal


After being intro'd into his music at a festival in summer of 2018, a friend over at Ghostly International asked if I'd collaborate with Galcher Lustwerk on his next album he was releasing in Fall 2019. Elated to connect with my photographic roots and work with musicians again, specifically ones whose music I draw inspiration from, GL and I ideated last summer over his subtle, romantically covert approach and how he imagined this album to be. Collaborating with friends at Ghostly, working on the music video with Nitemind & my friend Jon Vingiano, the process was made even more sweet with the artwork direction by Justin Sloane. Thank you Molly Smith at Ghostly for making this intro and helping produce such a fun collaboration between us.

With all the fun results that came out of this time, there's plenty left to share on an EP that should be out this Summer.




Airbnb | Maine & Kenya Islands

#editorial

I got a call back in September from Katie Dunn at Airbnb Magazine to spend a few days on an island in Maine. I made the trek of plane, car, and fishing boat over the course of one day, welcomed by three perfectly sunny, temperate days where I was able to watch the light from sunup to sundown, get to know the family that manages the property, and eat fresh lobster caught just off the shore by a local fisherman. A perfect Maine experience at the tail-end of the summer.

About a month later, Katie asked if I would be up for making the hike across the planet to an island in Kenya. A direct, 15hr flight there and six hours in a taxi brought me to a wooden canoe at the edge of Lake Borego in the Rift Valley just after dusk had fallen. Skimming my way to the island under moonlight and stars, knowing full well there were crocodiles and hippos nearby made it all too surreal. I spent four lovely days with the Whitey Family on Samatian Island, learning about its entangled history and understanding the diverse community of plants and bird life that call it home. There's a neighboring island that serves as a refuge for a small herd of endangered Rothschilds Giraffes, watched after by the locals who have occupied the Valley for thousands of years.

Staying on both islands was a lesson on time and relationships, learning to respect the ever-changing weather patterns, the limitless movements of animals and people, and the sacredness of places with no light pollution. Feeling that these places deserved their story to be told created an unnecessary anxiety to be ready for the light, but as time with the earth moves at its own speed, so did I need to move with it too. Being preset with the light and its movements throughout the day is a consistent reminder that every minute is unique and infinite. If my love affair with photography was revived after shooting my Pentax on a weekend in 2018, these two trips strengthened my connection with how the photographic process connects me to the world.

Thank you Katie, the Dodd & Whitey Families, and all the people who shared these journeys with me.



Equinox Hotel Hudson Yards

#commercial

Together with agency Hugo & Marie, I pulled a couple all nighters with my small, nimble team and saw the inner workings of a new hotel as it went through PR highs and lows, affecting not just our shoot schedule but all the employees and their families too. It was a pleasure to have such freedom to explore and chase summer light in such a large space crafted by Joyce Wang.



Bridges to Prosperity
#personal

In 2019 I spent a week with B2P in Bolivia. This trip focused on a series of bridges in Rio del Toro, with one bridge in particular being the longest suspended bridge they've built in South America. The communities number into the ten thousands, situated on the ridgelines of a mountainous area seperated and surrounded by large swaths of river deltas. In the springtime, crossings between communities is extremely treacherous, with the rainfall sometimes confining people from even leaving their locales to make it to the nearest urban center five hours away.






WARM HUGHES, VOLUME 1, FALL 2018
"I notice that Autumn is more the season of the soul than of nature." ― Friedrich Nietzsche
Hi Friends -

Heading into fall I'd like to share with you a few recent soulful projects that I'm happy to have photographed.

This season is a time of reflection and my personal new year with my arrival into this world October 4. The change in colors of the season is a reminder of an inevitable will for growth. This definitely rings true as my partner and I are expecting our first child in December :]

Hope you enjoy scrolling through some of my work


When I was in architecture school, I created a few large watercolors of this fantastic space while dreamily losing myself in google image searches while it snowed outside my dark basement studio.

Over the summer while I was in the Italian Alps I made the trek. The Therme Vals by Peter Zumthor were a formative influence on my perception of spatial and tactile experiences from an early age. Despite no cameras allowed, I managed to hide a sizable medium format camera and a few film rolls in my robe without being scolded.


475 Kent Ave
#editorial – @FvF


@fvonf commissioned me to go inside and photograph the lives and spaces of four creatives at 475 Kent Ave - an 11-story artist's loft building in Williamsburg that is the last of its kind thanks to the glacially paced wave of gentrification that's swept the area in the past decade.

There's a newsprint out into the wild that should be landing on desks anytime now. Be on the lookout! If you'd like a copy but didn't receive one - please get in touch.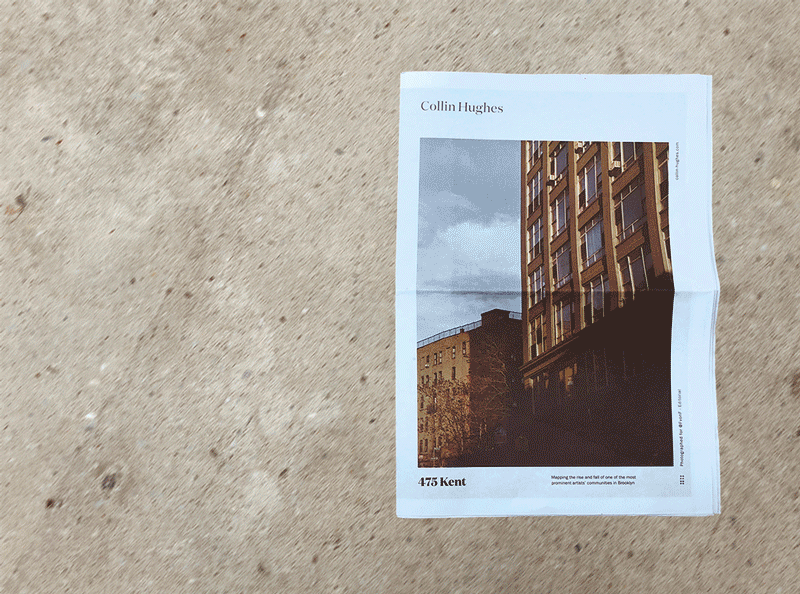 Hope you enjoyed the scroll through my first newsletter!

(  ̄ー ̄)σ



:: Listening to ::












~
END